'Historic' storm continues to pound Southeast
Months after the end of a historic drought that wreaked three years of slow-motion damage on the Southeast, a potent but sluggardly storm system has parked itself over much of the region, dumping days' worth of rain that has washed out hundreds of roads and bridges and caused six deaths.
On Monday, the tropical system, which has brought rain for as many as six days in some areas, had triggered flood warnings in parts of Tennessee, Alabama, North Carolina, Virginia and Georgia, according to the National Weather Service. More than 20 inches have been recorded in the last 36 hours in some parts of the Atlanta area...
The weather service called the flooding "historic" and life-threatening...1
(Excerpts Bold and Italics mine )
On August 4th I was pressed by the HOLY SPIRIT to give a warning of coming earthquakes, massive flooding, and violent hurricanes.
The sudden increase of disaster-related events will be tied into the increase of pressure and commitment to seeing Israel divided in the soon to be released Obama administration peace plan. The rope that has bound Israel and the United States together for so long is down to its final threads, the strain can be seen in the already visible frays and the remaining threads are about break.
America is about to suffer stronger and more frequent earthquakes, massive flooding in places not known for flooding, and violent hurricanes that will appear out of thin air. One by one these events will come directly on the heels of each other. These events will affect the west coast, east coast, and heartland, all regions suffering from some form of natural disaster at the same time. (Excerpt from "Earthquakes, Floods, and Hurricanes: The Cause?" on August 4th 2009)
Then on the 5th I was moved to write the following.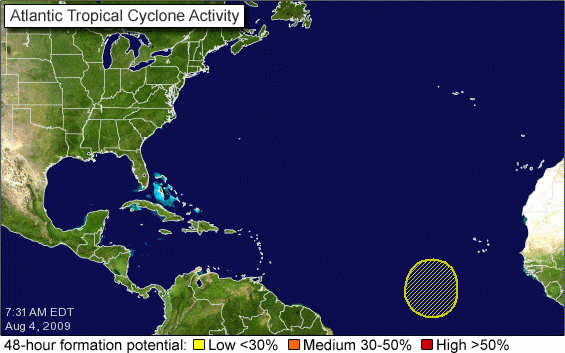 With the picture I presented yesterday I expressed a need to watch this area, I still feel the need to be aware of this region in the coming days and on into the coming months. If I have understood the HOLY SPIRIT correctly, this area will be rife with activity, with storms seemingly popping up out of nowhere, and baffling the scientists that study this region. (Excerpt from "Earthquakes, Floods, and Hurricanes: The Cause? Update")
Please pray about the hour that we are in. IF you are already praying, do not faint.
The low that parked itself over the SE region of the United States was part of low that formed as George Mitchell was in Israel speaking to PM Netanyahu about freezing settlements in the West Bank and East Jerusalem2. George Mitchell made several attempts and even extended his stay in Israel to persuade PM Netanyahu on this issue to no avail3. It was also during this trip that George Mitchell worked out the details of a meeting to take place today on the sidelines of the UN General Assembly between Obama, Netanyahu, and Abbas4. All sides have said this isn't the start of negotiations, but it is yet another sign of the intent behind the Obama administration to see a Palestinian State formed in the next two years.
When I wrote the warnings above I didn't know in my spirit what order these events would take place. I only know by the HOLY SPIRIT'S direction that these events will come as a result of the USA's continued pursuit of forming a Palestinian State with Israel's land.
I still believe that the other events will come soon and on the heels of each other. Hurricane season still has 2 more months and we must remember that YAHWEH is not held within the laws of man's perceived meteorological understanding. Yahweh created the processes that we observe; as a result, HE is more than capable of going against all scientific laws. Hurricane Andrew was the only major hurricane of its season, but it was a hurricane that has been forever remembered.
Peace and safety becomes an illusion outside the shadow of the cross. When this illusion is mixed with the air of haughtiness and moved with the winds of pride, an environment primed for destruction ensues. On a personal level such a fall is devastating, but at a national level upon an unrepentant land such a fall is truly the Wrath of GOD.
I sense within my spirit more than ever the HOLY SPIRIT'S air of urgency and direction to remain vigilant.

The days ahead of us will hold shakings in this nation unlike any other time in the United States of America's history. An increase in moderate earthquakes will come as warnings of future ones that will release intensities not matched in previous massive quakes. I still believe that a hurricane is coming that will rewrite the record books. These are just some of the events I have felt within my spirit to take place. With Obama possessing a deadly passion unlike any of his predecessors to see to the creation of a Palestinian State within the next 2 years, you can count on these events taking place very soon.

These days are full of uncertainty for a nation that continues to prod the apple of YAHWEH'S EYE, though with certainty I can attest that continued prodding will result in national destruction.
As the children of the MOST HIGH we can look upon these events with the certainty that our FATHER is in control. We possess the certainty that these judgments are not for us as we have been judged at the cross of JESUS CHRIST and carry the BLOOD of Atonement upon our heads. Do not tremble and shake! Do not fear the hour at hand! If God is for us, who can be against us?
Never forsake intimacy with JESUS CHRIST our LORD, always keep your eyes and ears open to the direction of the HOLY SPIRIT, and never forget this TRUTH, with GOD nothing shall be impossible.
I have been young, and now am old; yet have I not seen the righteous forsaken, nor his seed begging bread. Psalm 37:25
God Bless, daniel