Pressure, Concession, and Dangerous Outbreaks
| sat, april 24, 2010 |
**Update-- Weather Emergency is already underway as of 11:00 eastern time for much of the south. Tornado OUTBREAK already being reported by the Weather Channel. Major Hail, flooding rain, and large tornadoes. This is a very dangerous event taking place across many states. I will post more on these event later this evening. -DE
Report: Netanyahu agrees to new gestures towards Abbas
Prime Minister Benjamin Netanyahu has agreed to release over 1,000 Palestinian prisoners held in Israeli jails, to remove several roadblocks in the West Bank, and to ease the blockade on the Gaza Strip, as a series of gestures towards Palestinian President Mahmoud Abbas, the London-based Arabic Language news agency Al-Hayat reported on Saturday. (emphasis mine)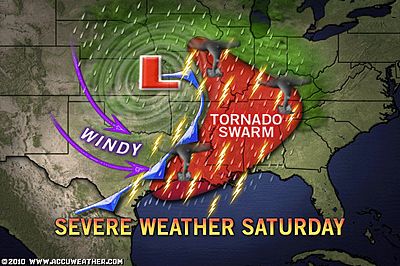 Tornado Threat Continues Saturday
The most extensive and dangerous outbreak of severe thunderstorms and tornadoes so far this season will continue through Saturday and target populated areas of the lower Mississippi Valley.
There is an elevated risk of the type of thunderstorms that can produce tornadoes Saturday into Saturday evening.
(emphasis mine)
The disruptive period here in the United States is swinging into full motion. The heavy blows of JEHOVAH'S wrath upon this land will soon shatter safety, security, peace, and comfort. The only hope for protection is under the wing and in the shadow of our LORD.
Let us continue to pray.


Blessed is the man whom thou chastenest, O LORD, and teachest him out of thy law; That thou mayest give him rest from the days of adversity, until the pit be digged for the wicked. For the LORD will not cast off his people, neither will he forsake his inheritance. But judgment shall return unto righteousness: and all the upright in heart shall follow it. Psalm 94:12-15
God Bless, daniel