From Heaven HE Laughs
| tues, august 21, 2012 |
Update : 8-29-2012 (7-Year Anniversary of Hurricane Katrina)
Unprecedented in nature, Hurricane Isaac has stalled and is sitting on the shore of Louisiana as a catagory 1 hurricane.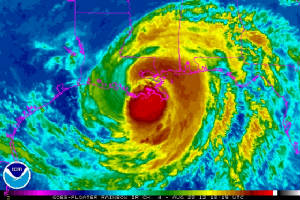 Update (8-26)
Isaac will soon intensify into a hurricane. Isaac appears to be headed towards New Orleans, 7-years to the day that Hurricane Katrina impacted and brought divine destruction.
While Isaac is heading towards land, on a similar path Katrina took 7-years earlier, an earthquake swarm is taking place in southern California, one of the largest in sometime, the last of which also took place in 2005.
I believe that these signs may indicate that a big event is about to take place that would merit these types of signs.
I understand that Isaac hasn't become a major hurricane yet and the swarm in California hasn't produced a major quake, but I still feel that these signs are worth watching.
Isaac is not about to impact land because of the Republican Convention, though I do think the fact that the RNC was going to support a two-state solution in Israel and the fact that the convention was postponed, or hindered, for a day because of Isaac is significant and the events are connected, but the RNC support is not the sole cause of this event. I believe that Isaac and the swarm in California are indicating a bigger assault on Israel is either in the works or about to take place.
The LORD is just and righteous. The BIBLE indicates numerous times throughout Scripture that YHVH never unjustly punishes or metes out punishment that is out of proportion with the offense committed, if anything HE is merciful and patient.
If Katrina is used as a comparison to Isaac, than this would indicate that Isaac may be connected to an offense greater than or possibly equal to the expulsion of thousands of Jews from Gaza and the West Bank, an offense that may already be underway and with US involvement. Whether or not this is the case, the extent of the damage yet to be meted out by Isaac is still unknown and may or may not be on par with Katrina, but the timing of this storm, the track, and the potential does raise such a question.
Let us continue to prayerfully watch and pray for the LORD's protection and mercy on those in the path. I pray that clarity will also come in the days ahead.
Original post (8-21)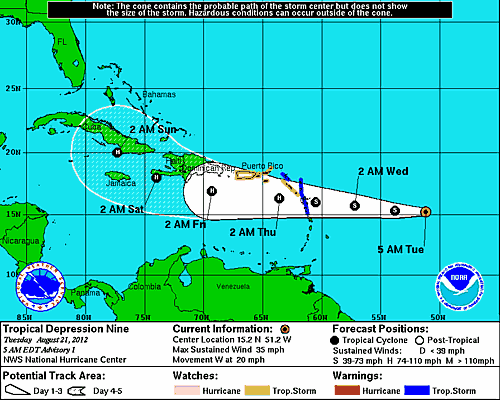 Tropical Depression Nine will soon form into Hurricane Isaac.
Isaac is the father of Jacob.
Jacob's name was later changed by YHVH to Israel.
Isaac's name means "laughter" or "he laughs."
Why do the heathen rage, and the people imagine a vain thing? The kings of the earth set themselves, and the rulers take counsel together, against the LORD, and against his anointed, saying, Let us break their bands asunder, and cast away their cords from us. He that sitteth in the heavens shall laugh: the Lord shall have them in derision. Then shall he speak unto them in his wrath, and vex them in his sore displeasure. Yet have I set my king upon my holy hill of Zion. Psalms 2:1-5
Thus saith the LORD; Behold, I will raise up against Babylon, and against them that dwell in the midst of them that rise up against me, a destroying wind... Jeremiah 51:1
Isaac is pronounced EYE'zik.
Deliver thyself, O Zion, that dwellest with the daughter of Babylon. For thus saith the LORD of hosts; After the glory hath he sent me unto the nations which spoiled you: for he that toucheth you toucheth the apple of his eye. Zechariah 2:7-8
God tested Abraham's faith by ordering him to sacrifice his son Isaac, though at the last minute, an Angel stopped Abraham.
Pray for the peace of Jerusalem.
God Bless, daniel