Converging Events
| thu, april 22, 2010 |
The possibility of strong storms capable of producing baseball size hail and tornadoes in Texas, Oklahoma, and Kansas at the same time Obama's Middle-East envoy George Mitchell will be back in Israel in an attempt to pressure Israel and the Palestinians to move forward the stalled "peace process", has me keeping a watchful eye on the south plains.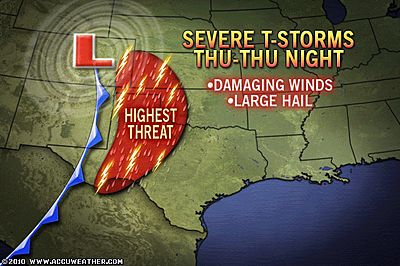 Historically, some of the greatest weather related events in the United States have coincided with moves made by the US government to pressure Israel into ways to divide their Covenant Land. With unprecedented steps being taken by this current administration and with pressure on the increase and not on the decrease, any and all fore warning to potentially severe weather should be given particularly concerned attention.
As the Obama led administration unrelentingly attempts to pull at the wheel-blocks keeping the stalled "peace process" from moving forward, the volatility of the environment (physically and spiritually) here in the USA will continue to ramp up. As long as this satanic agenda to divide the Covenant Land of Israel is pushed forward, all the while remaining blind to the merciful warnings Jehovah has repeatedly given, the potential for catastrophic events in the form of righteous retribution exponentially increases.
I know I sound like a broken record, but as long as the Holy Spirit leads, I must warn.
In the past, steps similar to the ones being taken now by the Obama administration have only led to disruption and tragedy. With a word like "unprecedented" continuing to describe the pressure being heaped upon Israel by this current US regime can only led to unprecedented judgments.
Let us continue to pray for the Peace of Jerusalem, safety and strength for PM Benjamin Netanyahu, and for the Lord's will to be done in this world, the USA, Israel, and most importantly, in our lives.
God Bless, daniel